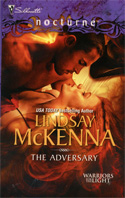 The Adversary is  book five in the Warriors for the Light series. Let's look at it more closely.
Colt Black has one enemy: Yellow Teeth–a Skin Walker who can transform himself into half coyote and half man. And he wants Cold dead. As a medicine man in training, Colt believes in his dreams. When he dreams of a mysterious woman who asks him to meet her, he goes. What he doesn't expect is a magnetic passion that could make him vulnerable to his foe….
After prophetic dreams, Shelly Godwin is searching for an emerald sphere. Her visions tell her she needs Colt's help. Trusting men doesn't come easily for Shelly. Yet she can't resist the desire Colt ignites in her. And when danger surrounds them, she must rely on Colt to protect her–and save their future.
For those of you who love this paranormal series, just wait to see what the Dark Lord, Victor Carrancho Guerra, does this time around! He WANTS an emerald sphere to stop the necklace from being strung. And he is pulling out the stops to get this one!