Deadly Identity is a continuation of the Jackson Hole, Wyoming series!
I'm very excited about being able to start writing about this big, brawling cow town shadowed by the mighty Tetons in Wyoming. In the spirit of Morgan's Mercenary saga-series (the longest running one in publishing history, thanks to you, dear readers–and I'll continue writing about their family, so no worries there!) JACKSON HOLE, WYOMING saga-series is going to be about fascinating people, their lives and their stories. Here is the next one:
WHEN DREAMS TURN INTO NIGHTMARES…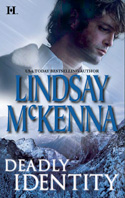 One tragic decision dashed Rachel Carson's plans and made her scared of her own shadow. Now on the run, she must forever give up the hope of love–or a baby. But with her new identity, she can help care for a motherless little girl, left in the protection of handsome Sheriff Cade Garner.
As tough as his Wyoming mountains, Cade takes his responsibilities seriously. He will do whatever is necessary to protect baby Jenny and give her the life she should have had. But his sharp instincts tell him something is up with the mysterious nanny who swept into their lives. The alluring blonde has roused his senses….and his heart. As a lawman he seeks to uncover her secrets. He knows he can protect her and the baby, if only she will dare to trust again.
Don't miss any of this series. Starting in 2011, there will be TWO HQN books a year on this new saga! As always, let me know what you think! Just email me.