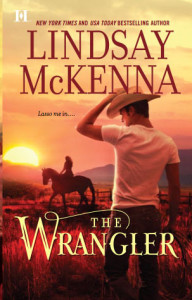 CAN A CITY BOY MAKE GOOD IN THE WILD WEST?
After Wall Street collapses, investment banker Griff McPherson trades in his suits and ties for Stetsons and cowboy boots.  He returns to the Wyoming ranch he co-owns with his brother, but its not exactly a happy homecoming.  So when the FBI recruits Griff to help investigate a drug-smuggling ring in Jackson Hole, threatening the safety of his family and friends, he goes undercover as a wrangler on another ranch.
Air Force Lieutenant Val Hunter has just inherited the Hunter Bar H ranch and she needs all the help she can get.  Griff McPherson is easy on the eyes, and a tough wrangler to boot, but Val's instincts tell her Griff is hiding something…  When danger ignites their sparks into flames, will Val see past Griff's betrayal to the true cowboy that lies beneath?
THE WRANGLER by Lindsay McKenna
ISBN:  13 978-0-373-77689-4
HQN, July 2012
The Wyoming Series
Dear Reader:
If you read THE LAST COWBOY, HQN, December 2011, this is about Slade McPherson's twin brother, Griff McPherson.  Griff was introduced in this book.  I loved writing this book because I like stories about family members.  And family doesn't always get along with one another.  The siblings in any family always have wounds and experiences that shapes and defines them.
In Griff's book, this is a man who was born in Wyoming and at the tender age of six, is torn away from his family and locale.  Even though Griff's life settles in New York City and his uncle, who is an investment banker in Wall Street wants the best for him, the call of Wyoming is always in the background, like a siren calling him home.
Griff isn't used to the constant, physical demands of becoming a cowboy once more when he does return home.  When Wall Street collapses, Griff loses everything, including his millions he made in the market.  With no money and no job, he head back to the state he was born in: Wyoming.  And he comes asking his twin, Slade, to take him in until he can get a job and get his life reordered.
The power and arrogance Griff had when in New York, has been chipped away and destroyed by the climatic events of Wall Street.  His story is a tale of redefining himself to once more, become a Wyoming cowboy.  And about mending fences with his hard working brother, Slade.  What Griff doesn't expect is meeting a woman who takes his breath away.
When he applies for a job as a wrangler on her ranch, he doesn't realize that love and the threat of dying, come with it.  Griff is not what he seems, either.  The FBI has asked him to be undercover to give them vital information of a gang who is in the area.  Griff has no idea how his undercover work is going to directly affect Val Hunter.  Or his growing love for her…
Griff has lost everything once before.  Will he lose it all again?