Hi Readers!
I'm sure all of you are done with the raking of the leaves if you're in the northern hemisphere, and getting ready for Spring in the southern hemisphere!  And for many of my readers, the Holidays are sneaking up on us.  First, Thanksgiving in the USA.  Christmas is pretty much global.
I'm already starting to get my packages prepared….you should see it:  I have ten boxes in a room with a name on the outside of each.  When I get time I go and put the gift or gifts in that box.  Over time, I get everything I wanted to remember, in those boxes.  It's an organic process that takes 2-3 weeks.
I've been writing up a storm!  And you should know that THE DEFENDER is coming out November, 2012 via HQN. This is the next book in the Wyoming Series.  If you like romantic suspense, this book is for you.  I have a lot of fun with it because my love of raptors is in there as well.   Most people don't know that I work with the raptor world.  I spent two years researching DANGEROUS PREY, HQN, 2009, with Susan Hamilton, a raptor rehabilitator.  She lives in Flagstaff, Arizona.  And she taught me enough falconry so as not to make any mistakes in that book.  I wanted to write a second book about raptors because they are such great personalities.  That is how THE DEFENDER came about.
The heroine is a raptor rehabilitator.  And I wanted to infuse her with some of the knowledge and experiences I've had over the years being near the raptor rehab community.  To have a hawk or owl land on your glove (gauntlet) is SUCH a thrill!  Nothing like it.   And, over time as I worked with Susan, who was very gracious in me tailing her around with a camera, and/or a glove on dying to fly a raptor, I found out they don't all land the same.
Buffy, the female barn owl, who was found in the middle of a hay bale by a very surprised horse owner, lived.  Her two siblings had already died.  Susan Hamilton raised Buffy because she had been imprinted by a human.  Buffy, when she lands, actually "pounces" onto the glove.  It's surprising power because she's such a little squirt weight-wise in the world of raptors!  That girl has strength!
Luna, the European Eagle Owl, lands softly; you barely feel her gripping your glove. And this owl, the largest in Europe, weighs six pounds–which is a lot!  And she has a five foot wing span to boot.  When she flies to your glove, the air is churning and whipping around your head like a tornado embracing you.  It's very exciting.
Did you know that you NEVER look a raptor in the eye?  Why?  Because the raptor will interpret it as aggression.  When I fly a raptor with Susan's help, my back is to her.  My arm is extended.  The raptor sees the back of my head, not my eyes.  And because of that, it will fly to my glove where it will find a nice, dead white mouse to gobble up.  If I faced Susan, and the raptor saw my eyes, it wouldn't land.  It could take off and fly away.
A year ago, Susan brought down a number of her raptors to our house for a group of women that were visiting me.  And she brought Sam, the Golden Eagle.  Susan is one of the few falconers in the USA to be awarded a vaunted eagle license.  It is a big deal.  And she brought Sam along.  That eagle weighs sixteen pounds with a seven foot wingspan.  He's BIG.  My mouth dropped opened when they brought him out.  We had a sturdy stand for him so he would be comfortable.
My good friend from Milan, Italy, Monica Amarillis, had taken her cell phone and videotaped me with Luna, a European Eagle Owl: http://www.youtube.com/watch?v=o2KTsA72klY&feature=related and http://www.youtube.com/watch?v=NskpWkJvl7Yk .  The raptors you will see are birds cared for by Susan Hamilton, falconer and who holds an eagle license, of High Country Raptors, Flagstaff, Arizona.  I hope you go view it.  You can see me and Luna together.
The Defender is a story within a story!  Yes, it is part of the Wyoming Series and continues my tradition of danger, romance and suspense.  Here is the "other" story!  Over a year ago, I received an email from Harlequin corporate headquarters. Donna Hayes, Publisher and Chief Executive Officer of Harlequin had spotted a pair of Peregrine falcons who were about to nest in a building across the street. Amazed, I read the missive.  The Tundra Peregrine has been driven to the edge of extinction by DDT and other harmful pesticides used by farmers in Canada.
After Donna saw the videos, she sent me an email telling me I had to connect with Ann Brokelman, a professional Canadian wildlife photographer.  I did, and the rest was history!  Because we all support not only with time, but donations to the volunteers who care for raptors, we have a wonderful, ongoing triangular connection in this incredibly magical realm of birds.  Raptors do change your life.  I know that for a fact.  And always for the better!  In September of this year, I flew up to Toronto, Canada to go out with Donna and Ann on a very exciting seven day wildlife photography adventure.  We call ourselves the "raptor wild women."  And we got terrific photo ops of raptors, four-leggeds and anything else that garnered our attention and interest.
In this newsletter, to celebrate THE DEFENDER and the raptors in it, I'm going to share with you some of my favorite raptor photos I've taken over the years.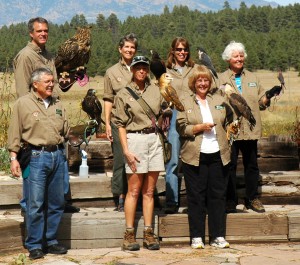 Here is Susan Hamilton (bottom row, second from the left) with all her volunteer helpers.  Susan has done a lot of good for falconry in the Flagstaff, Arizona area over the years.  She gives talks to schools and the children are absolutely enthralled when she and her volunteers come in with the raptors. Now, Susan is at BEARIZONA, in Williams, Arizona.  If you come along I-40, drop into this special place.  Susan puts on several raptor shows a day, wowing visitors from around the world.  Check it out at: http://www.bearizona.com.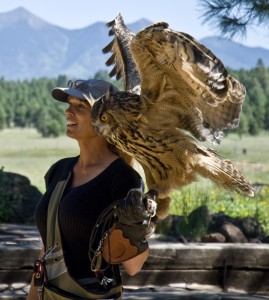 Here is Susan Hamilton with Luna, the European Eagle Owl.  She weighs six pounds and is the largest owl on that continent.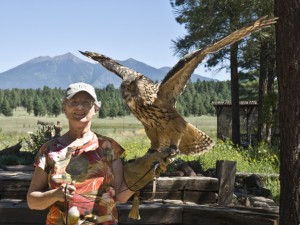 Here I am with Luna on my glove.  You can see the mountains of Flagstaff behind us.   Luna is the sweetest owl.  When I hold her, she sometimes does her soft little chut, chut, chut. This is a baby sound, Susan told me, that a baby owl will make to it's mother. Kind of a cooing if you want to put it in human baby terms when held by her mother.  I first met Luna when she was only six months old.  She is now five.  I've grown up with her, thanks to Susan's generosity.  And Luna and Susan have taught me a love of raptors as a result….and why I write about them and share them with my readers.  Sometimes, education can be fun :-).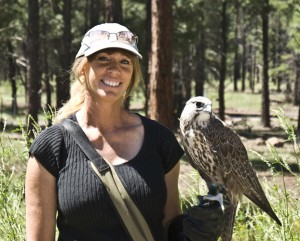 Here is Susan with a Saker falcon, Shine.  Falcons, by nature, are called "hot" raptors. That is, they are high strung, nervous and often, hard to handle.   A good falconer calms and soothes her or his raptor.  Usually, a leather hood is placed over a falcon when transported from their mew (large, airy cage) to where ever they will be flown.  In all the years with Susan, I've never seen her hood any of her falcons.  She just has that inner calm that soothes the fractious spirit of falcons….and really, all her raptors that she cares for.
Here is Susan with Buffy, the female barn owl. When weather is bad, she will fly them up and down the aisles between the mews, just to get them out and get them exercise, which they love.   In my book, THE DEFENDER, "Moon" is the barn owl in the story.  But everything based upon Moon is about my time, observation and experience with beautiful Buffy.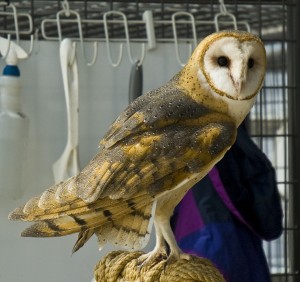 Pallas Athena, Greek goddess of wisdom, always had a Barn Owl on  her shoulder.  In the myths, it is said the owl whispered her wisdom to Athena.  This photo captures it perfectly.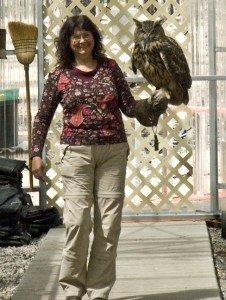 My friend, Marina, from the Netherlands, is walking with Luna on her glove.  All you have to do is look at Marina's face to realize how impactful working with raptors really is.   It's a natural high.  And I can guarantee you, once a raptor has sat on your glove–you will NEVER be the same after that.  All good, of course.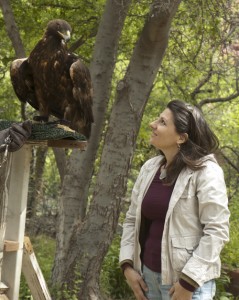 My dear, longtime friend, Yolande, had a special "vibe" with Sam the Golden Eagle.  I caught this moment as they both looked one another in the eye.  It's a fascinating and mysterious thing about energy and how a raptor can transfer it to a human and vice-versa.  Sam was "taken" with Yolande.  It was a feast of hearts meeting, touching and becoming one for a split second.  That's the magic a raptor can bring into your life.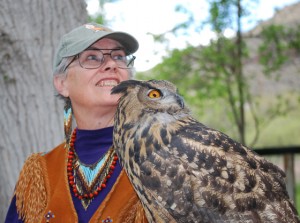 And, Yolande is an accomplished photographer with a Canon Camera.  Here, she caught me and Luna looking up.  We BOTH heard, at the same time, a whistling shriek of a Red Tail Hawk flying the canyon.  Priceless photo.  Thank you, Yolande!  And this photo is on the back page of THE DEFENDER.  Now, you know the rest of the story!!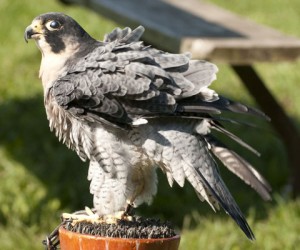 This is a photo of a Peregrine Falcon from Canada.
Donna Hayes, CEO of Harlequin, is intimately involved with the saving and return of Peregrines falcons to Canada.  In April of 2011, I received this Harlequin publicity release.  And I think it will tell you a great story :
Harlequin's Newest Lovebirds—Peregrine Falcons
You may think Harlequin's hottest new couple would be appearing on the covers of their novels, but you'd be wrong, because the publisher's most buzzed-about twosome are a pair of peregrine falcons.  A mating pair of the world's fastest animal—they can reach speeds of more than 320 km/h when in their hunting dive—was spotted by Harlequin Publisher and CEO Donna Hayes nesting on the uppermost ledge of a building across from Harlequin's world headquarters in the North York area of Toronto.    Quest, the peregrine falcon, at her scrape opposite Harlequin's offices.
An avid birdwatcher, Ms. Hayes immediately contacted the Canadian Peregrine Foundation Tuesday, April 10, 2011 to alert them to the pair and noted that one of the falcons had a tracking device and antenna on its back.  The CPF immediately dispatched a volunteer to Harlequin's offices and identified the bird as Quest, a peregrine falcon born, tagged and fitted with a transmitter across Lake Ontario in Rochester, New York.  Her mate has been identified as Kendal, a peregrine falcon born across from the King Edward hotel in Toronto in 2009.
"We've got a real cross-border romance going on here," said Ms. Hayes.  "Quest and Kendal have been courting around our offices.  They've been putting on quite a display of aerial acrobatics, spins and dives—high-altitude flirting.  Our lovebirds have started their scrape, the peregrine falcon equivalent of a nest, across from our building, and have become the most popular couple in our office—they've even overtaken the mating pair of geese that visit us every year."
Ms. Hayes has given the CPF access to an office directly across from the scrape to track the amorous falcons' progress and has even set up her own telescope for Harlequin employees to watch the birds and, hopefully, their offspring.
Marion Nash, director of the Canadian Peregrine Foundation directs people to their website (www.peregrine-foundation.ca) to follow the Harlequin peregrine falcons story, to pledge support or to help with the fledge watch should Quest and Kendal have offspring.
When I saw this publicity release, I emailed Donna and let her know that I too, was involved with raptor rehabilitation.  It was kismet.  Donna then introduced me to professional wildlife photographer, Ann Brokelman of Toronto, Canada.  Needless to say, the three of us got along famously.
When we'd go out and photograph raptors, we would send them around to the other two gals.  We all salivate when we received photos of our beautiful raptors.  And in September, 2012, Donna, Ann and I went on a seven-day wildlife photographing adventure.  We had great fun and got great photos!
You will find in THE DEFENDER, Quest (female) and Harlequin, her offspring, make an appearance and I had a lot of fun writing in this exciting, adventurous couple .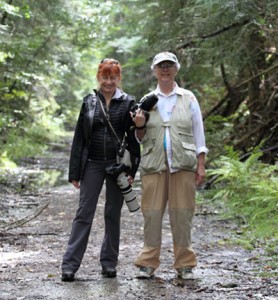 Donna Hayes, CEO of Harlequin (left) and myself (Lindsay McKenna) out in the forests looking to photograph raptors.  Donna was a great spotter of hawks.  She always saw them long before I did.  And I got some fabulous shots as a result.
Here's Donna Hayes behind her Canon camera and Luna, the cute little Saw Whet owl perched prettily upon the lens.  Priceless photo.  I think Luna and Donna were smiling.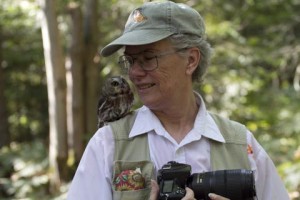 Ann Brokelman took this photo of me with Luna, the cute/sweet little Saw Whet owl.  We took a four hour photo shoot at the Muskoka Wildlife Centre in Ontario, and the owner, Dale, put the little owl on my shoulder.  I began talking to her and she turned her big, beautiful eyes and look directly into mine.  Kismet.  Kissed by an owl.
So, dear readers, when you pick up THE DEFENDER, you now know a lot of 'back story' as to have it evolved and I created it.  I hope you enjoy it as much as I did penning it.  Happy Thanksgiving and Happy Holidays to all of you around the world 🙂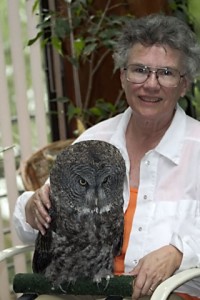 Here I am with a Great Gray Owl from Canada.  They are a large owl, but in terms of weight a female is 2-4 pounds and the male 2-3 pounds.  Still, a "big bird!"   It was a priceless moment.  Photo: Ann Brokelman.
Merry, Merry!