Travis Trilogy series was the first series I ever wrote, to prove to my editor that it COULD be done.  She scoffed and shook her head, saying it wasn't possible.  I don't take "no" very well.  I know what I can do and what I can't do.  One thing you don't want to do is throw a gauntlet down in front of me and tell me it's impossible. NOTHING is impossible.  It's only the limits and boundaries of our reality that make it so–or not.  Red Tail was the first of three books I wrote.  Book 1 Red Tail (Silhouette Desire), Book 2 Dare to Love (Harlequin Temptation), Book 23, The Right Touch, (Harlequin Temptation).  So I proved to her a writer could write three books that had a theme. In this case, the Travis children.  Each had their story.  There was NEVER a flash put on the books.  This was opening a door and pioneering, which is one of my strong points as a writer.  I just had to get the publisher to accept the vision I had and knew I could create.  Once I brought this to the editor's attention, she said, "Do it again."  Okay, I did.  That ended up being series #2 that was never acknowledged as a series:  The Kincaid Series.  Finally, she believed and Love and Glory series was born: Morgan's Mercenaries.  It did have a flash and they did support it fully.  Now you know the REAL story behind all of the way 3-book series were actually created.  It was done by me because I had the vision and I didn't take "no" for an answer. Further, I didn't capitulate to an editor's wrongheaded belief it couldn't be done by a writer.  I stayed true, first of all, to myself. Secondly, to my vision.  Never take "no" as the final answer in your life.  I was not only the creator of the military romance genre, but I was also the creator of the SERIES books which nowadays, seems common and completely realistic.  Back in the 1980's it was glimmer in one person's eyes: mine.  Not the publisher.  Now, you get to walk the footsteps of history by reading the first REAL trilogy in the publishing word: The Travis Trilogy.  I was the "little engine that could…
The following books will be released on August 12, 2014.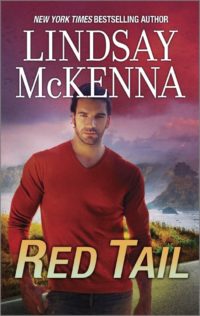 Purchase Red Tail at the following locations:
TAILSPIN
She'd known the job was hazardous, but the Coast Guard Search and Rescue helicopter pilot Lieutenant Storm Travis learned its true toll when she lost her husband. Suddenly, love seemed an impossible dream.

Then Lieutenant Bram Gallagher, ex-fighter pilot and six feet one inch of brash masculine energy, strode into her life and stole her heart with reckless grace. Flying together, depending on each other for life-and-death decisions, gave them an intimacy soon strengthened by their growing need for each other when they were on the ground.

Bram's passion unleashed her innermost needs, but Storm knew she was flying blind over dangerous waters…
AUTHOR COMMENT: Storm Gallagher was a prototype military woman who wanted to do what he loved: flying and helping people out of danger.  Too bad military male pilots didn't feel the same. They saw women coming into their ranks as a threat.  And yes, indeed they were. Women have more finesse at the collective and cyclic than most male pilots ever will have.  Women's brains are wired differently than a man's brain.  Women pick up on nuances or what we, in the aviation world refer to as "flying by the seat of your pants."  It's instinctive.  It's intuitive. And women use their right hemisphere where intuition is located so they have the skill already in place and use it fully.  It makes them better pilots in my opinion.  I was a pilot myself and I can tell you the slightest change in pitch in the engine, the way the plane felt, the way it handled, the subtle change of wind direction and how the aircraft was receiving that push back, was all by the seat of my pants.  I was a damn good pilot.  And while I used instrumentation, when it came down to it, my intuition, my sensing abilities, all six senses were also engaged in the act of flying, too. That's why women are better pilots.  Nowadays,in 2013, women pilots fly military jets, cargo transports and helicopters and they are just as good–if not better–than their male counterparts.  We're built differently brain-wise and we bring certain skill levels to the table men simply don't have at their fingertips.

I spent seven days at US Coast Guard base with Captain Bud Breault, in the state of Washington.  I interviewed many helicopter SAR pilots, flew in a number of Coast Guard helicopters, flew on mock SAR's to see what it was like, as well as interviewing mechanics and all the rest of the people who keep those birds flying . RED TAIL is a tribute to Captain Breault's love of the Coast Guard and he's one helluva helo pilot, too.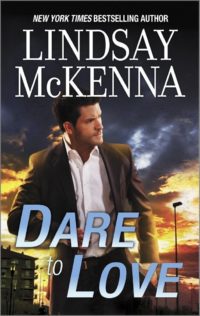 Purchase Dare to Love at the following locations:
Dare to Love… How could she be in love with her captor?

The instant Kai Easton was kidnapped from a posh Houston suburb, her life changed drastically. She was the wrong victim, but Matt Travis wouldn't let her escape.

Kai didn't even want to run from Matt. His eyes told her intimate secrets, and his embrace was passionate and true. She longed to believe in him, because within twenty-four hours she'd learned to want him forever…
AUTHOR COMMENT: This was the non-series Travis series, but I loved the story of Kai Easton….wrong place, wrong time, but the right man!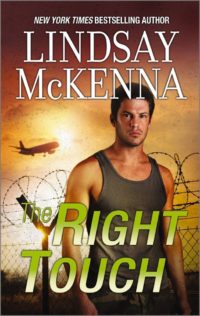 Purchase The Right Touch at the following locations:
She was living dangerously.
As a TV camera operator and competing fencer, Devorah Hunter had enough to handle. She didn't need a tough, sexy guy like Cal Travis around–she suspected he was a real lady-killer.
Yet when she met the notorious pilot at an embassy party in Hong Kong, she was in for some surprises. Devorah had planned on keeping her distance, but somehow her plans and Cal's moves just kept pulling them closer and closer…
AUTHOR COMMENT: I had traveled to Hong Kong in 1983 with my mother Ruth and my husband, David. We spent two glorious weeks there and fell in love with the magical quality of it and its people. I married this knowledge with my other, which was as a fencer.  I was one of the first women fencers to demand equality and be able to fence all weapons. Up until that time, women had been only allowed to fence foil. My husband was a Top Ten Epee champion for Ohio State University, his alma mater. I demanded a chance to fence epee and saber weapons. The men said they were too heavy. I snorted and picked up an epee. I won half my bouts with the men. Later, more women got on the band wagon. In the end, because of me and other women who were sick and tired of being coddled and told we couldn't handle heavier weapons, the East Coast fencing salle's went on to revolutionize the sport of the fencing. Now, women are allowed to fence foil, epee and saber in the Olympics. I have great pride and warm fuzzies over being one of the spearhead women who pushed down another barrier to allow woman to show what they could really do. This book is a celebration of these two events.