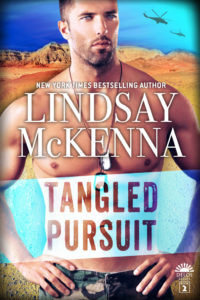 TANGLED PURSUIT
November 11, 2015

Navy SEAL Wyatt Lockwood is fascinated by Marine sniper Captain Talia Culver. But she wants nothing to do with him after learning of his reputation as a heartbreaker. The cocky Texan refuses to take the hint and keeps placing himself in Tal's path. When she agrees to help him tend to needy families in an Afghan village, she learns there's more to this SEAL than meets the eye. But is she strong enough to risk having her heart broken again?
Wyatt Lockwood is fascinated by prickly Tal Culver. She's as strong as she is beautiful, and he has been trying to break through her armor for years to reach the sensual woman he knows is just below the surface. But Tal is unreachable…or so she seems until he persuades her to work with him at a local orphanage. As they work together, Wyatt sees a softer side to her. Before he can pursue the growing attraction between them, he discovers Tal and her spotter have been ambushed by Taliban on a scouting mission. Has he lost his chance with Tal forever.
Now available for preorder through iBooks !