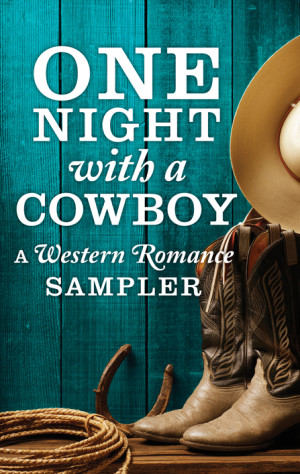 One Night with a Cowboy: A Western Romance Sampler, Harlequin, with Lindsay McKenna (Out Rider) and other authors.  Look for available from HQN books on March 1, 2016! Get a taste of 10 stories (the first chapter of each book) by some of our most popular and bestselling authors: Linda Lael Miller, Diana Palmer, Maisey Yates, Jodi Thomas, Trish Milburn, B.J. Daniels, Delores Fossen, Linda Warren, Lindsay McKenna, and Mia Kay. Download for FREE at:
Tough, rugged and oh-so-sexy…There's just something about those Western men. From Wyoming to Oregon, Texas to Montana, let today's top-selling masters of Western romance sweep you away with this sneak peek at ten brand new novels. The West has never been wilder!
Featuring extended excerpts from Once a Rancher by Linda Lael Miller, Untamed by Diana Palmer, One Night Charmer by Maisey Yates, Rustler's Moon by Jodi Thomas, Home on the Ranch by Trish Milburn, Hard Rain by B.J. Daniels, Texas on My Mind by Delores Fossen, Texas Rebels: Jude by Linda Warren, Out Rider by Lindsay McKenna, and Hard Silence by Mia Kay.